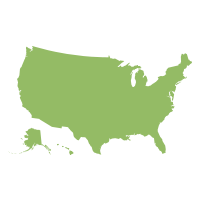 Traditional Title
Flexible title services when and where you need them.
Fast, accurate title services are critical for you to meet your customer service and revenue goals. Accurate Group is an ALTA-certified company that delivers a comprehensive set of traditional title, streamlined title and settlement services, including eSign and eNotary closing technology, designed to give you an edge over your competitors by delivering the best combination of flexibility, speed, accuracy and price.
Single point of contact – nationwide coverage.
Accurate Group Companies acts as a title agent on behalf of Fidelity, First American and Stewart providing title insurance, title searches, and title related products directly in thirty-six states and the District of Columbia. In addition, Accurate provides title coverage in all remaining states through strategic alliances – providing you with a nationwide solution. We work with information consolidators that utilize public record data supplemented with networks that include over 8,000 abstractors to provide title abstracts, property searches, and other related ownership reports. But you get one, single point of contact through Accurate Group.
Improve customer service and accelerate time-to-profit.
By working with Accurate Group, you gain the fast, flexible and regulatory-compliant title and closing services you need to keep your customers happy and accelerate time-to-profit. Contact us today.

Advantages:
Nationwide coverage

Access to multiple national title underwriters

Texas title and closing expertise

Industry-leading title report turnaround time and quality

Streamlined and refinance rates provided when possible

Document quality control and recording service, including e-Recording

Online TRID-compliant Mortgage Loan Fee Calculator and Home Equity GFE Premium and Recording Fee Calculator

Loan closings anywhere, anytime, 24/7, using e-Signing, e-Notarization or  mobile notaries